Michael Lewis, NZ Post – WINNER
Michael Lewis has been with New Zealand Post for 13 years in various roles, including being a postie for a week. It is this long standing dedication and commitment to New Zealand Post that has seen the northern operations manager win the Deloitte Top 200 young executive of the year award for 2014.
The award, which has been sponsored by IMNZ and Eagle Technology since 2005, celebrates executives up to the age of 35 who have had a role in influencing, growing and providing direction within an organisation.
Having held various leadership roles over the years, Lewis said it was the ability to guide people through the difficult times and changing processes of a company that made exceptional leaders.
"I think the world is a fast-changing environment at the moment and the biggest thing for a leader is to lead people through that uncertainty," Lewis said. "With that comes empathy, confidence but also an appreciation of the challenges that people are facing each day."
 According to the judges, Lewis' dedication to growing people and meeting the challenges of a changing workplace had had a significant impact on the organisation.
Judge Jo Brosnahan said Lewis showed exceptional breadth and depth of leadership skills and a wisdom, gained through an exposure to diversity and travel as a young man and then challenged with a range of executive roles. "His referees confirmed that he is the complete executive; focused on understanding and caring for his people, while steering the organisation through major change."
Lewis, who won the northern region finals earlier this year, said the best part of his job was working with people. "What really drives me is growing people, seeing people develop, seeing people achieve," he said. "So everything I try to do is focused around creating that sort of environment where hopefully my people, my leaders and my team can grow and learn and develop."
Lewis completed a Bachelor of Commerce and Administration as well as a Bachelor of Tourism at Victoria University in 2002.
Straight out of university he joined New Zealand Post, working his way up the ranks while trying most of the jobs in between, including delivering mail for a week as a postie, something he felt was important in understanding every part of the company.
According to Lewis his best career move — accepting the role of northern operations manager just over a year ago — was also one of the hardest decisions, with the company going through a large transformational process.
"We're moving from a letters based business to a multi-channel parcel and logistics business, it's a big challenge and you have to be up for those sorts of challenges, but the rewards are huge," Lewis said. "It's made me realise the enjoyment and satisfaction I get out of leading people and that real day-to-day connection you can have with a large operational workforce."
Finalists for the young executive of the year category have typically been people who have exceptional people skills, leadership capability, an overwhelming sense of purpose and a vision for themselves and their organisation.
This year's Deloitte Top 200 young executive finalists represent a range of different categories and sectors, with two of the three finalists working with animals, and all three having operated in various leadership roles over the years. Lewis has worked with NZ Post for around 13 years and knows the company inside out.
Oliver du Bern has been working at Wellington Zoo since 2005, and has had a major influence in developing visitor experience centre as well as supporting conservation and management committees.
Mike Wilson is the operations manager for natural raw pet food company, K9 Natural, which has recently started expanding into cat food and is focusing globally.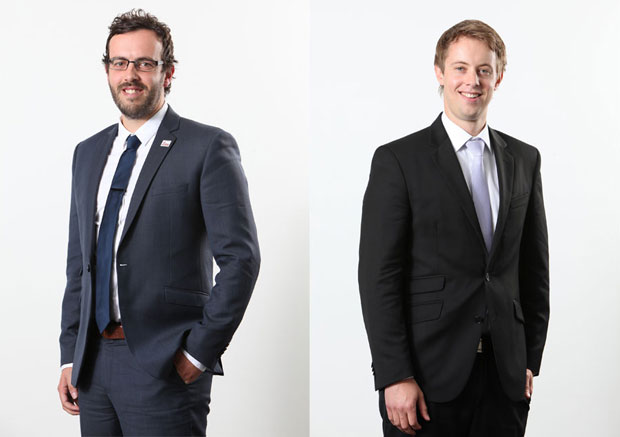 Oliver du Bern (left) and Michael Wilson (right).
Michael Lewis
Position:
General Manager Northern Operations
Company:
New Zealand Post Limited
Judges' comments:
"Michael Lewis is an impressive, visionary young leader who is committed to growing people to deliver both their individual and organisational success. Michael has a clear understanding of the need to deliver today while transforming the workplace to meet tomorrow's many challenges. He is a young leader who seems destined to have a profound impact on the organisations he works for, the people he works with and on New Zealand as whole."
Oliver du Bern
Position:
Visitor Experience Manager
Company:
Wellington Zoo Trust
Judges' comments:
"Oliver du Bern is a values-driven and deeply thoughtful young leader. He is intent on making a positive difference to seriously challenged natural environments. Oliver understands the importance of diversity and the opportunity it presents for new and innovative thinking. He will be an influential leader particularly in the conservation sphere."
Michael Wilson
Position:
Operations Manager
Company:
K9 Natural Food Limited
Judges' comments:
"Michael Wilson is an effective young leader who already understands the importance of good communication through compelling conversation. He strives to create a strong, committed work culture that focuses on individual and collective integrity. Michael is a natural leader with both humility and the breadth of understanding to grow into increasingly larger leadership roles."
What the judges say
Each year, the choice of Young Executive of the Year is a difficult one, and this year was no exception.
"This year's finalists confirm that the future of New Zealand is in good hands," says judge Jo Brosnahan. "Michael, Oliver and Michael are young leaders in completely different spheres, but all with a compelling vision and an ability to influence others in a way that is often not achieved by much older leaders.
"They also showed a basic humility that has enabled them to look beyond themselves to focus on the needs of others."
Adds Brosnahan:"These young executives indicate the talent and capability that is available among younger employees.
"Employers should take the opportunity to identify, learn and grow their young leaders and to give them the responsibilities to show their talents.
"Intergenerational diversity breeds innovative, energetic and diverse organisations. Good leadership is identified as the characteristic most needed if business is to thrive.
"TheIMNZ and Eagle Technology Young Executive of the Year Award has again proven that Generation Y are showing how it can be done."
Are you making a strong contribution to your organisation and the people around you? We want you! Apply for the Young Executive of the Year 2017.